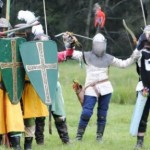 Combat archery rules and armour requirements can be found in the Lochac Combat Handbook, as part of the general rule-set for armoured heavy combat. These rules can be found here – http://lochac.sca.org/marshal/
Some of the rules relating to combat archery are being reviewed, and we would appreciate your feedback on areas that you would like to see changed, or need to be better clarified – please visit the consultation page.
This page contains recent clarifications to the rules relating to combat archery.
Recent rulings
These override the pdf version of the Lochac Combat Handbook 2009.
Crossbows prohibited from use in SCA combat in Australia
9 February 2016
Due to updated requirements from our insurance company, the SCA Ltd is only covered for the use of crossbows on stationary targets, this means that even where groups and individuals hold all the proper mundane licences and permits, crossbows cannot be used in combat, or in target shoots involving moving targets within Australia.
Crossbows may continue to be used in combat, and in all forms of target archery (including moving and stationary targets) in New Zealand.
Angele de Savigny
Deputy Earl Marshal for Archery
Lochac
Western Red Cedar approved as a timber for combat arrows
6 November 2015
Western Red Cedar (Thuja plicata) is now an approved timber for making combat arrows. Under destruction testing and testing against armoured opponents in combat scenarios, it behaved identically to, and proved to be indistinguishable from Port Orford Cedar. We only knew which was which by the labelling.  Thank you to Lord Diego Alonso Morena of Darton for providing the timber and arrows for testing.
Angele de Savigny
Deputy Earl Marshal for Archery
Lochac
Mesh protects the face not the skull
6 November 2015
Ruling – mesh is required to protect the face, not the skull.
Details – mesh is required under Lochac rules to protect delicate facial features what would not survive an unintended helm penetration such as eyes and teeth. Mesh is not required to fill the skull holes on Vendal style helmets. As with all armour, the design is to prevent traumatic and unrecoverable injury, pain however is up to the tolerance level of the individual and what level they are willing to accept.
Jarl Niáll, Dux
Earl Marshal
Lochac
Crossbows in Victoria
27 August 2015 (applied earlier)
Footnote 1 in Section 10.2 of the Fighters Handbook 2009 no longer applies.  SCA Ltd does not have an exemption for the use of crossbows by members of the SCA. Crossbows may not be used in SCA combat in Victoria. Ownership of a crossbow in Victoria is subject to mundane licensing requirements.
Angele de Savigny
Deputy Earl Marshal for Archery
Lochac
Ramin – Staged discontinuation of use as a timber for combat arrows in Lochac
6 July 2015
In October 2004, international trade in all species of ramin (Gonystylus spp.), a tropical hardwood mainly found in Malaysia and Indonesia, was restricted under the Convention on International Trade in Endangered Species of Wild Fauna and Flora (CITES), as illegal logging and trade poses a continuing threat to this species, as well as the highly threatened orangutan and Sumatran tiger that rely on these forests for habitat.
This means that importation of this timber (and finished items made from it) into Australia and New Zealand can only be done with appropriate CITES permits – export permits from the country of origin as well as import permits.  They cannot be moved between countries without re-export and import permits which require the original export permit from the country of origin or a Pre-CITES certificate if the item was acquired before the timber was protected. Ramin timber and items made from ramin imported without the appropriate permits are subject to forfeiture.
Although it has proved to be a safe and cheap material for combat arrow shafts, we cannot condone the use of this timber for what is a disposable item.
From 7 July 2015, no one is to purchase ramin from timber merchants for the purposes of making SCA combat arrows. Those SCA participants who currently have stocks of legally imported ramin may use and sell what remains of their own stocks, though please consider a more permanent use than combat arrows if possible.
I would like all groups to include in your quarterly reports (via your group heavy marshal) on the number of ramin combat arrows in use among your participants, as well as what stockpiles of ramin shafts remain to be turned into arrows.  The rate at which the supply is depleted will help us determine when a complete ban on ramin combat arrows will be implemented.
We are currently investigating other sustainable timber types to add to the allowed timbers for combat arrow shafts.  If you have examples of timbers that may be suitable and are willing to assist with testing, please contact the Deputy Earl Marshal for Archery.
Yours in service,
Angele de Savigny
Deputy Earl Marshal for Archery
Lochac